KEY STATS
Founded: 1985
HQ Location: Dubai, United Arab Emirates
Owner: The Emirates Group
Industry: Airline
Annual Revenue (FY 2018): $29.8 billion
Destinations: 158
Fleet size: 270
Passengers (17/18): 58.6 million
BACKGROUND
Founded in 1985, Emirates airline was set up by the royal family of Dubai. The inception of Emirates was borne out of the decision of Gulf Air, who were operating flights in and out of Dubai at that time, to cut back on its number of flights.
Emirates began life as an airline carrier leasing two aircraft from Pakistan International Airways. In addition to this the Dubai Royal family gifted Emirates two additional aircraft from the Dubai Royal Air Wing. The airline moved quickly to secure deals and routes, with agreements for flights to Karachi, New Delhi, and Bombay. Emirates conducted its first commercial service flight on Oct. 25, 1985 to Karachi. Emirates then started to grow steadily and in 1988 Emirates added Damascus to its route network, becoming the airlines 12th destination around the world, in just 38 months of business.
By the very early 1990s, Emirates had secured itself as one of the world's fastest growing airlines, as it grew out of the Gulf network. The airline secured slots at some of the worlds biggest airports, including ones in Sydney, Brisbane, Perth London and Paris. By the end of the decade Emirates launched its own cargo service.
Despite the aviation industry being hit by global recession in 2000 and the terrorist attacks on Sep. 11, 2001, with the financial clout of the government behind Emirates, the airline continued to make orders for new aircraft and establish new routes. Emirates has since developed into one of the world's largest airlines with a fleet of 270 aircraft, flying to over 155 destinations in more than 80 countries around the world.
annual turnover

MARKET COMPARISON (USD MILLIONS)

Emirates' prolific portfolio of sports sponsorships culminates in an estimated annual spend of $303.19 million, ranking highest of the five airlines compared and spending three times that of second highest Qatar airways. In part, this significant spend on sports sponsorships is a reflection of the airlines wealth. Since foundation, Emirates has been an integral part of the Dubai government's ambitious plan to develop the country into the commercial, financial and tourism centre of the Middle East. Emirates, with its government backing, has remained financially strong in a time where the airline industry has struggled, and has benefited from an enormous marketing budget in which sports sponsorship forms a central part.
Similar analysis however can be levelled at Emirates' gulf competitors Qatar and Etihad, both of whom benefit from state-owned backers. Although Emirates is the largest of the three, all in terms of annual revenue, fleet size and staff, the significant gap in sponsorship spend between Emirates and its two gulf rivals places emphasis on the importance of the marketing tool to the brand. Emirates, through signing a number of continental and worldwide deals, agreements with the FIA Formula 1 World Championship and tennis' ATP world Tour for example, has taken its overseas sponsorship strategy one step further than its competitors. Moreover, whilst all three gulf airlines invest in soccer shirt sponsorships, Emirates' agreements with Real Madrid, Arsenal, Milan, Hamburger SV and Benfica collates to an estimated spend of $175.5 million, taking its sponsorship spend far beyond that of its competitors as it seeks to gain as much global exposure as possible.
Emirates sports sponsorship spend is also significantly more than the two US airlines; delta and United, despite them being the second and fourth biggest airlines in the world according to business insider (Emirates ranked twelfth). Unlike Emirates, whom utilises sports sponsorship as a means of generating as much global exposure as possible, United and Delta almost solely targets sporting properties that are in the local market in which they operate, accounting for the comparatively lower sponsorship spend.
MARKET COMPARISON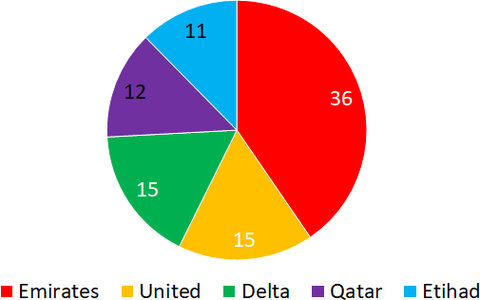 Of the five airlines studied Emirates is by far the most prevalent sponsor of sporting properties, accounting for 36 (40%) of the 89 deals. On a whole airlines tend to limit their respective sponsorship portfolios to home markets, Delta and United as an example, primarily because sponsoring a property in a home market is a safer bet for an airline. Emirates however boasts a truly international sponsorship portfolio, investing in multiple sponsorships that compliment its status as the worlds largest international airline.
BIGGEST DEAL
Official Status: Shirt Sponsor
Length: (5 years)
Current deal: (2018-2023)
Estimated Annual Value: $82,340,000
Real Madrid have been part of the Emirates airline portfolio since 2011 when the brand became the official airline of the soccer team. The agreement gave the brand a strong stadium presence, however, in 2013 Emirates signed an initial five-year agreement to replace Bwin as shirt sponsor. Emirates has since renewed its partnership with Real Madrid, signing another five-year deal through 2023 worth a reported $82.34m per season, Emirates' most expensive sponsorship deal to date.
In becoming shirt sponsor of one of the worlds most popular teams, emirates has been able to generate the exposure it needs to match its worldwide business network.
NOTABLE DEALS
Emirates has been title sponsor of Arsenal's stadium since 2006, signing a fifteen-year deal worth a reported $5.35m per season. The airline has since extended the deal for a further seven-years through 2027-28. The airline also signed on as shirt sponsor of the London team in 2006 signing an eight-year deal worth $22.3m per season. Emirates has renewed the agreements twice since, now paying a reported $56.1m in an agreement that runs through to the 2023-24 season.
Emirates sponsorship of Arsenal was the airlines first venture into soccer sponsorships and is important in advertising the airlines routes outside of London. Indeed, Emirates airline's Dubai-London Heathrow non-stop route generated close to $800 million in 2018, securing one of the top spots in a list of the world's highest revenue-generating routes.
has undoubtedly developed into one if its most successful in building brand awareness. Arsenal's shirt sponsorship deal with Emirates is the most recognised in the Premier League among fans, according to a Europe-wide study by market research company Statista.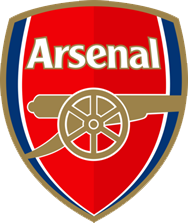 Emirates has been a sponsor of Formula one since 2013, when the airline signed on as a global partner in an initial five-year deal worth a reported $40m per year. Emirates renewed the agreement in 2018 for another five-seasons.
F1's season of fifteen races across five-continents ties into Emirates global strategy as it helps the brand reach its international client base. The innovation and development of technology in the motor-racing industry also further encouraged Emirates into the agreement.
strategy breakdown
Average deal worth = $7,790,000

Emirates has sponsored a range of clubs, venues and competitions with significant investments in each. The airlines two most expensive deals are both shirt sponsorships of two of soccer's biggest teams; Real Madrid and Arsenal. In all shirt sponsorship of soccer teams accounts for 57.2% of Emirate's total expenditure on sports sponsorships. The airlines agreement with FIA Formula 1 World Championship is its third biggest agreement with an estimated value of $42m per year.
Sponsorship spend by sport (Millions)

Emirates have invested heavily in soccer sponsorships, corresponding to 62.9% of the airlines total sponsorship spend. In being the most watched sport in the world, soccer sponsorships presents the Emirates with the perfect platform to reach its global clientele. Emirates has additionally invested heavily in sports that attract an affluent market with a spend of an estimated $42m on motor racing $10m on Sailing.
strategy breakdown
Contract Length, announced deals (Years)
Average number of years = 5.774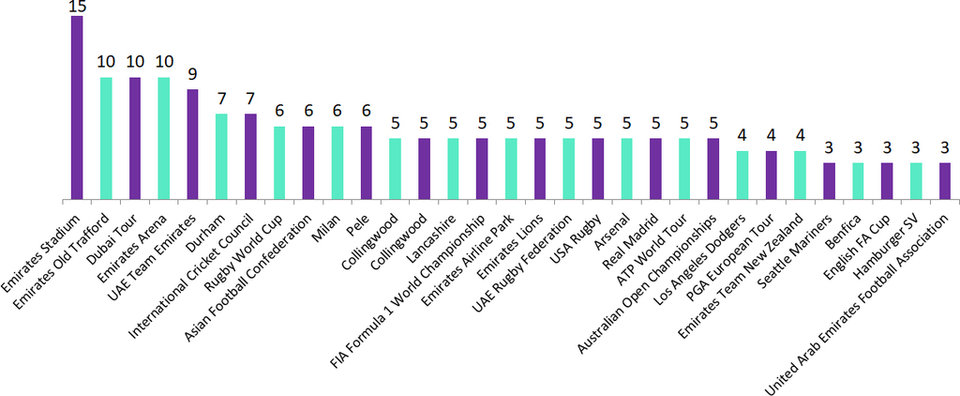 Emirates has an average contract length of 5.77 years, symbolising the confidence in its investments. As with many airlines, Emirates likes to build long-term relationships in order to build trust with a property's audience. The decision to fly with an airline is influenced by trust, and trust takes time to build.
announcements