Disrupting the soccer sponsorship landscape bit(coin) by bit
From simple shirt branding to buying the latest replica kit to facilitating the transfer of the next Brazilian wonderkid at your club, cryptocurrency is revolutionising the way technology and sport interact
By Tariq Saleh
Cryptocurrency is at the beginning of this journey, and soccer has been its vehicle of choice, with the virtual currency steadily advancing its credentials as a viable industry for clubs to partner with.
England's Premier League, in particular, has been quick to tap into the market, with almost half of the teams in the top-flight having a partner in the cryptocurrency space, and six of those presently partnering with eToro, the most prominent sponsor in the league.
In the 2018-19 season, eToro burst onto the scene with deals with seven Premier League clubs: Tottenham Hotspur, Newcastle United, Leicester City, Southampton, Crystal Palace, Cardiff City and Brighton and Hove Albion.
By the time the 2019-20 campaign came around, it had renewed deals with Tottenham, Southampton, Crystal Palace and Leicester, and signed new agreements with Everton and Aston Villa.
Awareness and visibility
Exclusivity is often a buzz word in sponsorship, so entering into deals with several clubs in the same division was a unique approach. For eToro, the reason was simple: benefit from the reach afforded by the most-watched league in the world and expose the brand to as many fans as possible.
Iqbal Gandham, managing director of eToro in the UK, tells Sportcal Insight: "Having mapped our audience in terms of their passions, we found that their primary interest was football. There is a great overlap between fans having a voice and a social community in the football industry and what we do on our platform. We believe we have the largest online community of investors, with over 11 million registered users globally who can talk, engage and swap investment ideas with one another.
"After our first year of sponsorships, our multi-club approach has achieved significant brand awareness due to the density of branding at matches across the season."
Despite ending its deal with eToro this year, Newcastle United remained in the cryptocurrency market by partnering with StormGain this season, which also became the club's sleeve sponsor.
Premier League rival Wolverhampton Wanderers named CoinDeal, the international cryptocurrency exchange platform, as its first permanent sleeve sponsor a year ago and extended that deal to cover the 2019-20 season, while Arsenal entered the sector, adding CashBet Coin as a commercial partner.
But of the Premier League clubs in the cryptocurrency space, it was Watford that took the biggest leap by becoming the first team in the top-flight to feature a brand from the sector as its front-of-shirt sponsor.
Ahead of this season, the club signed a three-year deal with Sportsbet.io, the bitcoin sports betting website.
Sportsbet.io's mission, according to Lucy Thomas, head of PR and sponsorship, is to disrupt the soccer sponsorship landscape.
She tells Sportcal Insight: "I see it as a major disruptive move for football sponsorships… We want to do it with the customer at the centre of it and partnerships are no different to that. So even when it comes to planning our activations with Watford, we will involve our players and will involve Watford really heavily as well."
As part of their agreement with Sportsbet.io, Watford further embraced the market by deciding to feature the Bitcoin logo on their sleeves for this season instead of searching for a separate sleeve sponsor, which 18 of the 20 clubs in the league have done.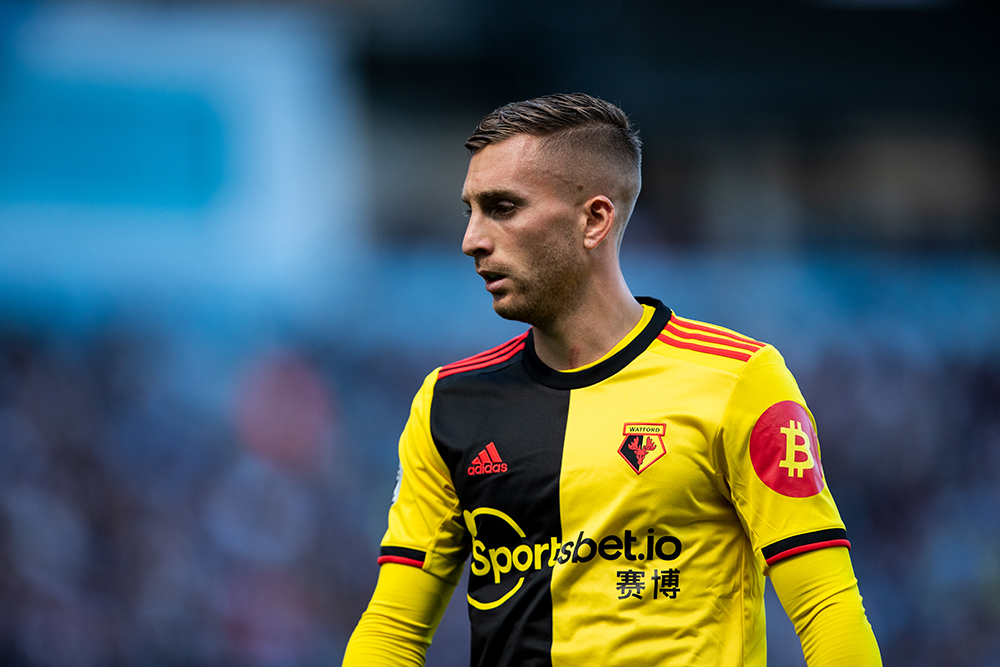 Scott Duxbury, Watford's chairman and chief executive, claimed that placing the Bitcoin logo on a Premier League shirt was "something that challenges the accepted norm."
For Sportsbet.io, the move was part of an "educational drive" and "a wider campaign to improve awareness around Bitcoin and educate the public on the benefits of using cryptocurrencies."
Thomas explains: "The Premier League is the perfect vehicle for this. With the billions of eyeballs that watch the action every week it's the perfect place for us to put Bitcoin and for it to safely be assured of that level of visibility that Bitcoin's never seen before.
"The fact that football is so popular is why it was the place that we started but there's a second part to that as well. We chose to enter the football sponsorship market because there is a distinct level of prestige when it comes to football sponsorships. If you look at the press boards and all of the different assets around the stadiums, you'll see some of the world's most recognisable brands. To have Bitcoin alongside them is a major milestone not just for the crypto community but for us as a cryptocurrency brand as well."
"Blockchain technology is disrupting almost every industry globally and the world of sports is no exception."
Jeffrey Lin, chief executive of GCOX
e-commerce
Outside of the Premier League, Benfica, the Portuguese heavyweights, have also entered the market, partnering with cryptocurrency payment solutions provider UTRUST.
The reigning Primeira Liga champions have gone a step further in the process, becoming the "first major European football club to accept cryptocurrency payments."
Benfica supporters can purchase items online, including match tickets and official club merchandise, using cryptocurrency.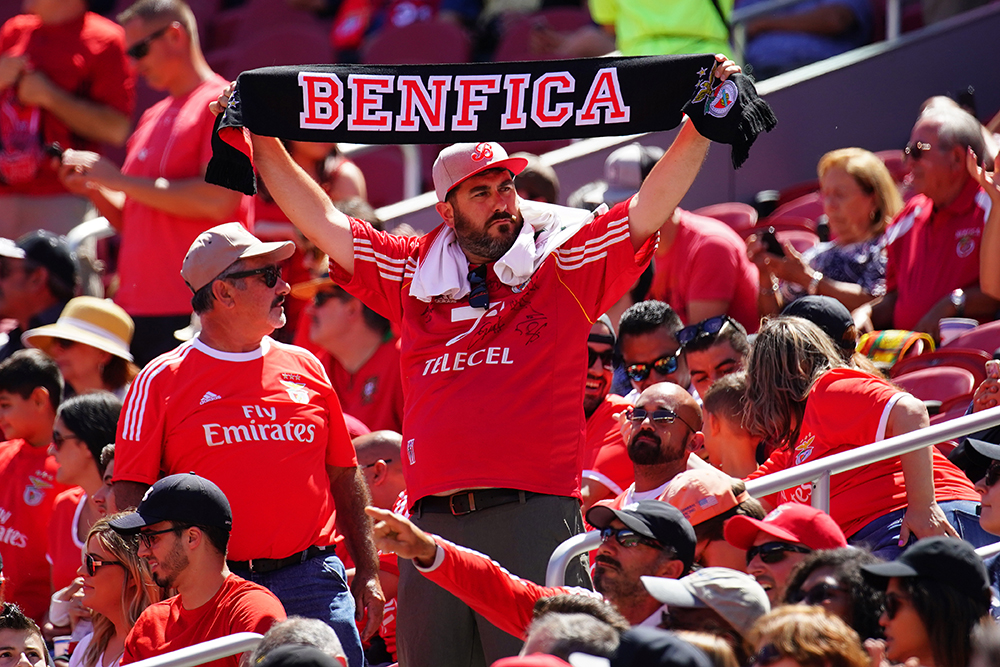 The Portuguese giants believe that partnering with UTRUST will "evolve the club's e-commerce strategy and expand its global audience, in particular... and... significantly reduce processing fees and eliminate inconvenient credit-card chargebacks and fraudulent payments."
According to Nuno Correia, UTRUST chief executive, this will soon become a trend that many soccer clubs will follow.
He explains: "Generally speaking, the population that uses cryptocurrency are mostly male. Almost 90 per cent of crypto holders are male with an age group of 18 to 40 so it's good for us to target a niche that actually has a higher probability of using only cryptocurrencies. More soccer teams will join the revolution and we'll see it in the coming months, up to the point where it will be natural."
While cryptocurrency brands have successfully entered the soccer sponsorship market through clubs, they have been slow to leverage their growth in the sector to encompass leagues.
Spain's LaLiga has been the outlier here.
In August, the league signed up GCOX, the cryptocurrency exchange, as a new international sponsor to cover Asia and the Middle East, representing its first partnership in the cryptocurrency and blockchain sector.
Ivan Codina, LaLiga's managing director for South East Asia, Australia, Japan and South Korea, tells Sportcal Insight: "The idea for the partnership stems from our global approach and desire to bring the league closer to its fans. GCOX presented a differentiated approach to do just that, through which a wider audience will have closer access to LaLiga and the Spanish experience."
Codina expects more leagues to follow suit, mainly due to the digital advancements the cryptocurrency and blockchain sector can provide.
He adds: "[Other] leagues would be looking at such a category as well, not purely from a sponsorship perspective, but as part of digitisation of processes and in enhancing consumer experience."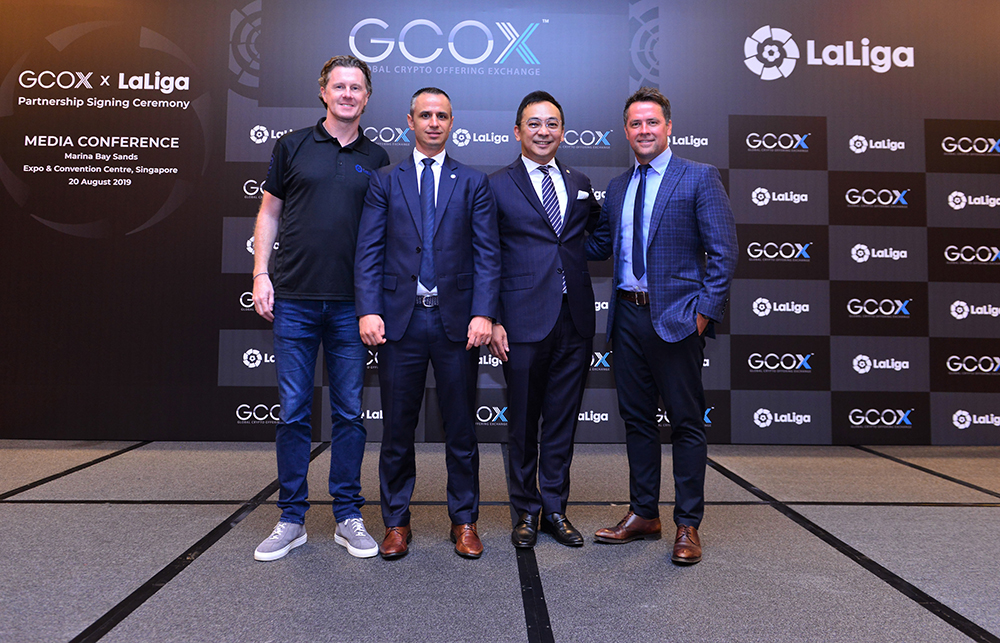 For GCOX, associating with renowned soccer brands presents a clear opportunity for the company to reach a vast global audience.
Jeffrey Lin, chief executive of GCOX, explains: "As football is the most popular sport in the world, watched by billions of people, there is significant advantage for blockchain companies to associate with renowned football brands as such a reach to the massive fan base all around the world will bring about swift global market penetration of their products and services."
Prominence
Cryptocurrency brands have become increasingly visible in soccer over the last 18 to 24 months and the sector has evidently emerged as an interesting sponsorship category for rights-holders and clubs.
Codina believes entering into the industry is a win-win for everybody as it helps clubs and leagues as well as fans.
"For industries like football, blockchain, cryptocurrency and tokenisation improves overall efficiency and provides fans and consumers with greater control on what they wish to see, and this brings the league closer to the fans by breaking down barriers," he says.
"From an institutional standpoint, tokenisation could aid in increasing transparency across countries ad currencies, especially in ensuring financial fair play, transfers and even contracts."
"As a forward-thinking league making constant investments in technology we are looking for opportunities to stay ahead of the curve."
Ivan Codina, LaLiga managing director for South East Asia, Australia, Japan and South Korea
"There are hosts of football clubs across Europe who have sponsorship deals with cryptocurrency companies to promote 'initial coin offerings' to raise money, sponsorships with clubs have payment in part bitcoin, and clubs have begun accepting crypto payments from fans in purchasing merchandise.
"For us it's a shift that is part of our digitisation. As a forward-thinking league making constant investments in technology we are looking for opportunities to stay ahead of the curve. Ultimately our fans will be able to experience LaLiga in a more intimate way because of this."
According to Lin, the rise of cryptocurrency sponsorships in soccer is largely due to the increase in fans going digital.
He says: "Blockchain technology is disrupting almost every industry globally and the world of sports is no exception. With massive number of fans around the world going online, organisations are embracing the use of cryptocurrencies and digital tokens to reach out to fans and give fans access to exclusive content, memorabilia, and opportunities to interact with their idols."
Etoro's Gandham believes there is a synergy between soccer and blockchain technology which explains the growth of the crypto space within the sport.
"There are clearly lots of synergies between the world of football and blockchain technology," he notes. "Football is an industry that requires large amounts of money to be transferred across borders very quickly. Blockchain technology presents real opportunities for the football industry in facilitating this.
"Awareness about crypto assets has also increased more broadly over the past 12 to 18 months, with big players like Facebook announcing that they're launching their own cryptocurrency. It is therefore only natural that different sectors and industries will look into the use case for crypto, as it becomes more mainstream."
Aiding transfers
With the large sums of money involved in soccer, particularly with huge transfer fees between clubs, payments made using the blockchain technology could make the process easier for clubs compared to traditional means.
"I see blockchain disrupting the payment sector of soccer teams"
Nuno Correia, chief executive of UTRUST
Gandham believes this is one area where the future of cryptocurrency lies within the soccer landscape as it can help to facilitate payments.
He explains: "In our view, the most clear use case for crypto assets in football is to help with the cross-border money transfer. Football is an industry that requires large amounts of money to be transferred across borders very quickly. Blockchain and crypto is therefore a natural option that the industry is assessing to help facilitate these payments.
"Aside from this, there are myriad other uses for blockchain in sport for fans. For example, in the future, blockchain could be used to address issues of ticket touting, problems with transparency, and providing a guarantee of authenticity for merchandise."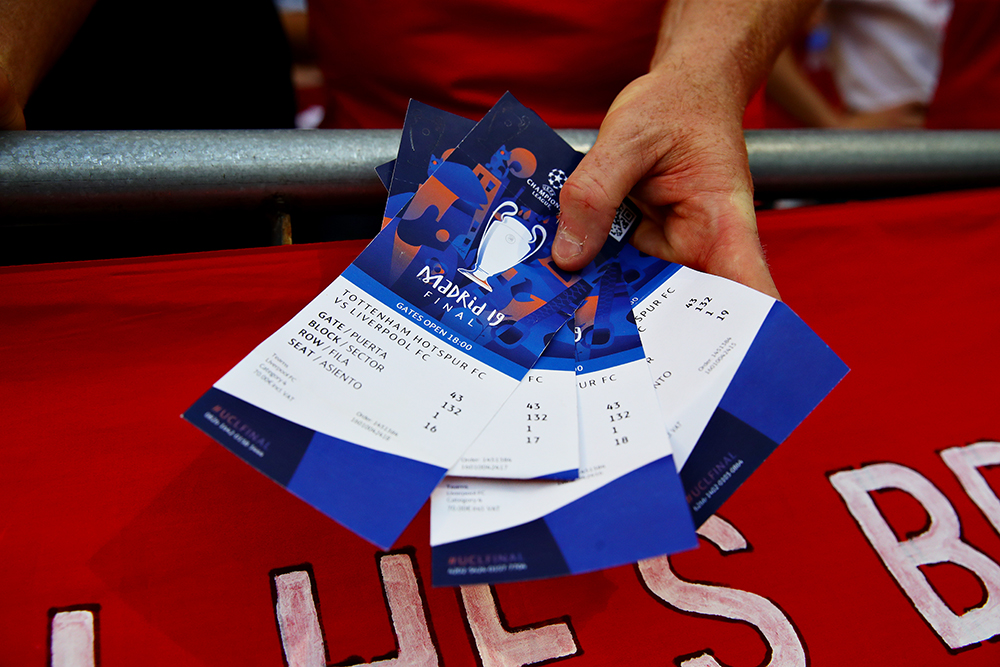 Correia expects soccer clubs to eventually utilise the blockchain technology to process all payments as it will take the sport "forward."
The UTRUST chief says: "As the legacy payment system, based on debit, credit cards and paper money, fades away to digital payments, blockchain will take over. I believe all the football teams will process all payments in future based on a blockchain.
"For example, if a team now sells a player to another team for €25 million [$28 million], where is this transaction recorded? How can fans and everybody get access to this kind of transaction? With blockchain you can see that transaction on its system so it's a way of taking football forward there as well.
"Obviously there's also all the merchandise, tickets and everything that will be registered and sold through blockchain to ensure full transparency. I see blockchain disrupting the payment sector of soccer teams."
For Thomas, the crypto space is at a "tipping point" and more companies will enter the soccer sponsorship market, with an expectation that front-of-shirt sponsorships will become more prominent.
"It's still super early days but Sportsbet.io has made moves with becoming the first cryptocurrency-led brand on the front of a Premier League team's shirt. So I assume that we would see a lot more of this happening across the board.
"It feels like we're at a tipping point at the crypto space right now and where adoption is increasingly quicker, you will see that there are new people entering this sponsorship sphere and beginning to merge and a lot of that will bring with it education. I really do think that education will be a key component.
"The challenge for a lot of the leading brands in the space is to expand their user base beyond traditional cryptocurrencies now, so if football clubs can offer a real route here the potential is limitless."