Germany is renowned, among many things, for soccer and technology and, in a competitive international sports marketplace, one way in which the DFL, the country's football league, has sought to differentiate itself is through the marriage of these sectors
By Simon Ward and Euan Cunningham
This has been demonstrated in recent years through initiatives in broadcasting production, digital media, data and eSports, plus investments in tracking systems and anti-piracy businesses, and the commitment was taken to a new level this autumn when the Bundesliga conducted the first-ever 5G data test at a live soccer match.
However, the league, which has been at pains to stress its strong connection with the fanbase and purity of its product as 'Football as it's meant to be', wants to ensure that such ventures enhance rather than detract from the match experience.
Selected guests and media at September's 1-1 draw between Wolfsburg and Hoffenheim were able to access, via an augmented reality phone app, a live stream of the action complemented by enhanced statistics on individual players.
The 5G offering is part of a two-year tie-up between the DFL and Vodafone, the international telecoms operator, announced in July, and provided in partnership with immersive.io, a French company that specialises in augmented reality experiences for fans.
The technology relies on a special 5G station and antennas set up by Vodafone under the roof of a stadium, in this case Wolfsburg's Volkswagen Arena, and, to run the app, the DFL aims to collect data on around 1,600 'match events' per fixture.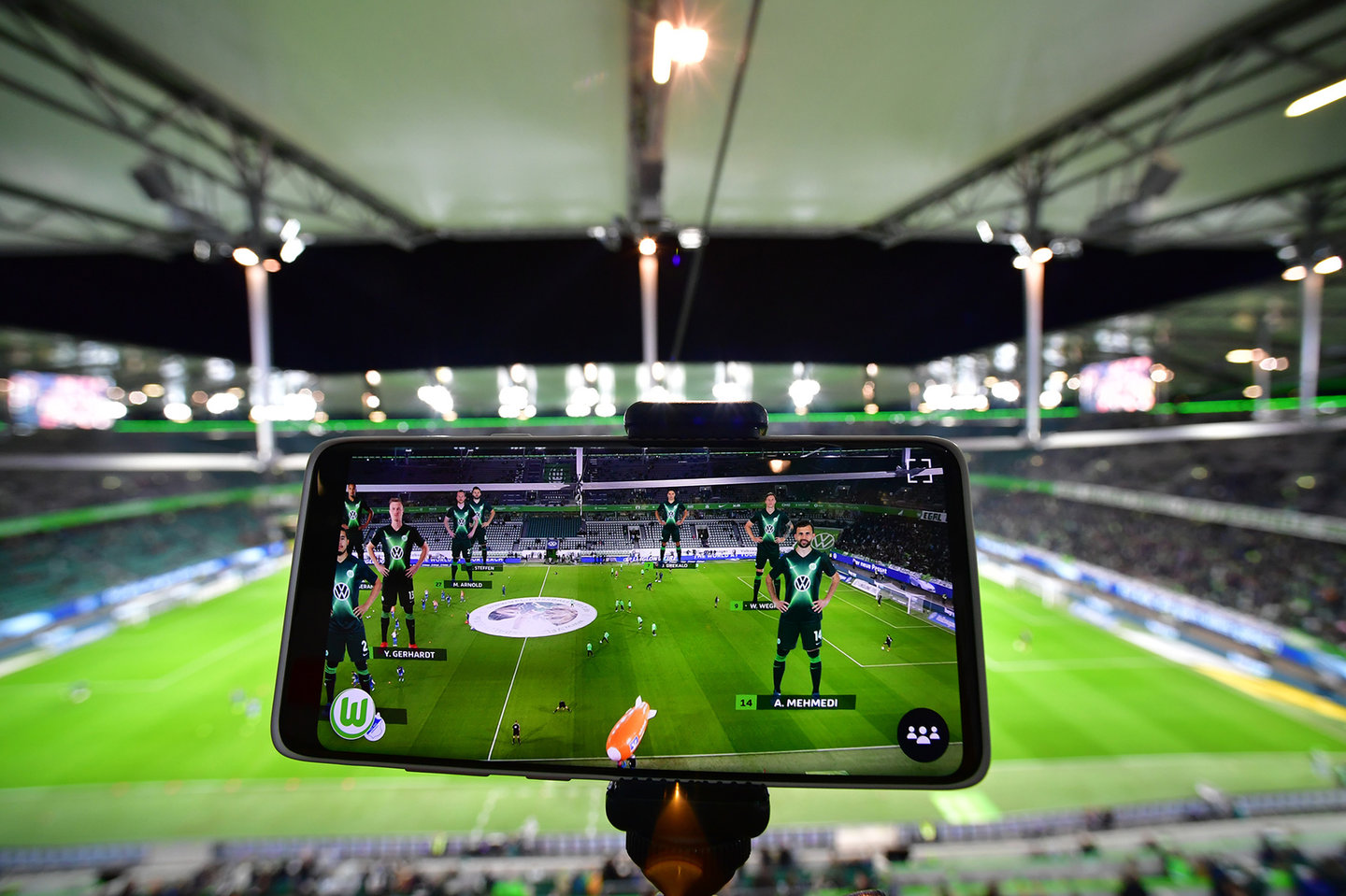 Viewers are able to select any particular player and access individual statistics, including distance covered, speed of runs, shots taken and number of games played in the season, with other enhancements planned.
Speaking to assembled media, including Sportcal Insight in Wolfsburg, Andreas Heyden, the chief executive of DFL Digital Sports and executive vice-president of digital innovation at the DFL, says: "We always try to generate the best and most innovative product for our TV and streaming partners, [but] this is the first time that we've gone towards the fans in the stadium and asked ourselves how we can extend the experience to them. What do they need? What are they currently missing?"
On when he envisages the app being used, Heyden states: "There are always situations where there are pauses in a football match – substitutions, big decisions being made. These kind of situations are the ones where we want to give fans the possibility to gain extra knowledge and better experience the match… 25 times per second we can measure where's the ball, where's the referee, where are the players. This data we then aggregate.
"We're working on innovative ideas like expected goals, which we can't provide now in real time as they take more computing power, but we may add later."
Fan engagement
Supporters of Bundesliga clubs have been protective of the traditions of German soccer, as shown by the protests against Monday night fixtures, which have led to these being scrapped when the new domestic media rights cycle begins from the 2021-22 season.
The DFL has therefore wanted to ensure that match-going spectators are on board with its data app strategy, which is being devised with a nod to the experiences and requirements of video gamers.
"We've been engaged in a series of discussions with the fans, we've asked the ultras, we've asked the families, we've asked the fans in the hospitality seats," says Heyden. "We're going to do trials with real users and ask about their experiences, and then adapt the product accordingly. Younger, tech-oriented fans will be the primary target audience at first, and then maybe fathers with sons, and then people who love technology and are open to trying something new.
"There is a whole generation coming up who learn football from playing Fifa or PES, and they know their data from these games. They're used to having this data in real time. We're trying to take this same attitude to our fans where we satisfy the demand for data with apps like this.
"We're taking a look under the hood with this. It's a trial, which we will evolve and grow over the next one or two years, according to the needs of the fans."
"Like all innovations, we're starting by trying to satisfy the user, and then trying to find the business model."
The Wolfsburg match was chosen for the test as the Volkswagen Arena is the first Bundesliga stadium to be 5G-ready. The plans for further roll-out are not fully-formed, with Heyden saying: "Like all innovations, we're starting by trying to satisfy the user, and then trying to find the business model. We're currently in the experimental phase.
"We're building a technology ecosystem as a league, upon which partners can build their products. Maybe this tech will get licensed through clubs and put into their own in-stadium apps, or maybe it'll be available through our central Bundesliga app. We don't quite know yet, we're still in the learning process."
The wider availability of the data will depend to a large extent on greater adoption of 5G across the league, but Vodafone is willing to engage with all parties following the Wolfsburg trial, with up to five other clubs having expressed interest in bringing the technology to their stadiums.
"This is the first consumer-centric case where we're bringing 5G to people, not enterprises. It's a tech demonstration, an agile project that we're continuously improving and looking to add more functionality to over time," says Michael Reinartz, the chief innovation officer of Vodafone Germany.
"It could also be displayed on another device, for example a pair of glasses or hologram, instead of just a mobile device. We will think of different methods of showing and providing this data."
He adds: "We are not a Bundesliga sponsor. In this case we approached the DFL who were eager to engage with us for a one-off activation. We looked for an arena that was capable of delivering what we needed, and we found Wolfsburg as the suitable stadium.
"Their stadium was already connected through us. We've had talks with them in the past about various innovative projects, and then the DFL proposed that this was the best place to test our agreement."
Heyden emphasises that the data app is intended to complement rather than cannibalise the spectator's enjoyment of a match, tapping into the improved technological infrastructure and increasing use of social media at venues.
He says: "This is all about enhancing a fan's experience, it's an offer which people aren't obliged to take. If fans feel they're missing out on information, then we're giving it to them.
"If they want to use social media during games for example, we can't prevent it. If we then go the other way and remove wi-fi from stadiums, it doesn't make sense. If you stop fans having fun, and you don't get involved with that fun as a sport, then you're missing out."
In terms of engaging with the public, technology needs to serve a purpose, according to Reinartz, who says: "We're not working on 5G for broadcast currently. There are various other methods of bringing broadcast to people. In Germany, there is no need to bring TV over 5G.
"We have not had any conversations with [Bundesliga broadcasters] Sky and DAZN for example, because we are in a contractual situation with the DFL only. We don't innovate just for the sake of it, there has to be a cash benefit. We always judge innovation by what we call a 'connect-to-cash' benchmark. We want to have a thoroughly designed business model behind all innovation, that's how we measure it."
A technology leader
The DFL has long sought to guide the advance of technology and innovation in German soccer, having had its own host broadcast and TV production arm Sportcast since 2006, a digital media content company DFL Digital Sports since 2012 and a data subsidiary Sportec Solutions since 2016.
The league went a step further in 2018 with the launch of the DFL for Equity programme, an initiative to build up equity investments in start-ups and small- and medium-sized enterprises, and this year with the creation of a dedicated digital innovation unit.
In a statement announcing the launch of the latter, the DFL said it "is committed to further development in areas of innovation and digitisation, including, but not limited to media production and virtual content."
Heyden, who joined the league from Maxdome, the ProSiebenSat.1-owned video-on-demand platform in 2015, has added digital innovation to his remit as head of DFL Digital Sports, reporting directly to DFL chief executive Christian Seifert.
His new responsibilities include the strategic alignment of the league's technology trade fair SportsInnovation in partnership with Messe Düsseldorf, relevant participation within DFL for Equity and contributing to the growth of the Bundesliga's official eSports competition Virtual Bundesliga.
"Now is the time to take digital initiatives within the DFL Group to the next level."
Ahead of the 2019-20 season, Heyden tells Sportcal Insight: "We did a massive leap for the league to enter the digital age. After three and a half years, we reached the first step of our journey in turning off our legacy systems, going all-in on Cloud, having data-driven thinking and getting new people in who drive innovation.
"Now is the time to take digital initiatives within the DFL Group to the next level… It could be digital innovation in how we work together with the clubs. It could be innovation like the Vodafone 5G projects. It could be something from the daughter and sister companies."
He adds the approach forms part of the DFL's strategy, driven by Seifert and presented as unique among the top European leagues, of being involved across the whole value chain, be it undertaking its own TV production, collecting data from matches, creating digital content and conducting global marketing.
Attracting higher global audiences and revenues has been a priority for the Bundesliga in recent years, as evidenced by the launch of Bundesliga International, the worldwide commercial rights sales arm, in 2017.
This has helped secure agreements such as the recent six-year media rights deal with US sports broadcaster ESPN, which comes into effect next season, and harnessing technology to meet the needs of partners in different parts of the world.
Heyden says: "The biggest innovation on international is that we have people who have worked with media companies, like me, and who understand how media companies work and what media companies need. We do yearly feedback rounds with broadcasters, we invite them here [to Germany] and we do interviews. And one of the wishes was faster, more localised content relevant to the partners."
The result has been link-ups with companies such as WSC Sports, which uses machine learning to create automated highlights for fans, meaning that, for example, minutes after a round of fixtures has finished, a round-up of the best of action featuring Asian players can be generated.
The DFL is also evaluating direct-to-consumer models, as shown by the plans that emerged from September's DFL general assembly for an international OTT service called Bundesliga Pass, which could launch in 2020-21, streaming top-flight matches in territories where rights bids from broadcasters are deemed to be below market value. The platform could also include live matches from the second-tier 2. Bundesliga and archive content.
Like OTT services, eSports are seen as appealing to young fans, which helps explain the investment in the Virtual Bundesliga, involving 22 of the 36 clubs across the top two divisions and gamers contesting matches on Fifa 20, the latest installment in the popular soccer video game series.
Heyden believes the virtual league should now be seen as its "third competition," enabling it to reach new customers and generate additional revenues for itself and the clubs, albeit they can choose whether or not to take part.
DFL for Equity, which again tallies with the DFL's commitment to the whole value chain, has so far entailed the acquisition of a 10-per-cent stake in Track160, an Israeli start-up that is developing a player- and ball-tracking system, and a low double-digit-percentage stake in 'ryghts', a joint venture with Athletia, the Cologne-based media network, that will monitor all piracy of Bundesliga matches.
Heyden adds: "We are focused on companies where our assets, which are most of the time not cash, can help them grow to the next level, and we can participate in the growth. If they are suppliers of an innovative product, every minute they work with us… increases their value, and we will have a fair share."