Music City is fine tuning its global assault on the sports calendar.
Nashville is now home to three major league sports teams, the NFL's Tennessee Titans and NHL's Nashville Predators having been joined by Nashville SC in February, albeit the coronavirus pandemic has restricted the team to just one home game in Major League Soccer.
A fourth is on the radar, with the Music City Baseball Group launched last year to land an expansion team, which has already been giving the working name Nashville Stars, by 2024 (basketball fans have to get their professional hit some 200 miles away in Memphis, where the Grizzlies ply their trade).
That trio ensure Nashville is a go-to sports destination on weekends throughout the year, but attracting one-off, big ticket events is the work of the Nashville Convention & Visitors Corp, which operates under a contract with the city to market Nashville as a destination.

"The World Cup will change the conversation globally."
There is one "game changer" on the market, which would elevate Nashville's global standing, according to Butch Spyridon, president and chief executive of the NCVC.
"Landing Fifa World Cup games in 2026 is game-changing, in terms of top of mind awareness," Spyridon tells Sportcal Insight from his office in downtown Nashville, surrounded by signed electric guitars and platinum record album covers of the world's most famous artists.
"As an organisation we have to pick what is that one thing that will change the conversation. We did it once domestically with the NFL Draft [in 2019].
"The World Cup will change the conversation globally."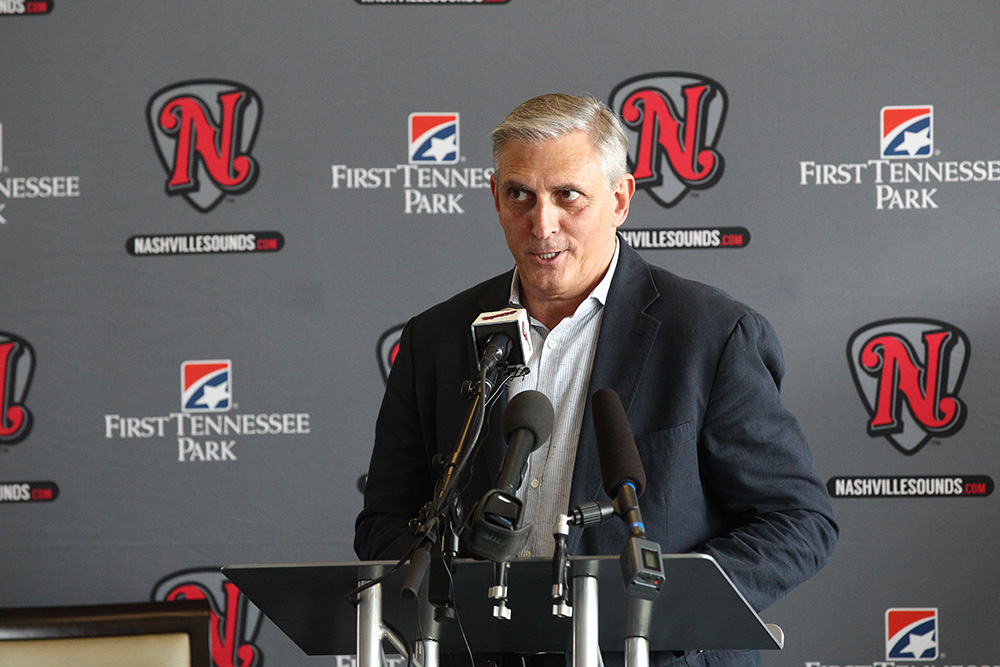 Nashville is one of 17 US cities shortlisted to host matches at the 2026 World Cup, with 10 expected to make the cut next year in a selection process that has been delayed by Covid-19. There are three cities each in Canada and Mexico that are all expected to be chosen, meaning Nashville is vying with powerhouses such as New York, Miami, Chicago, Los Angeles, Dallas and Houston for a slice of the World Cup pie.
Spyridon continues: "We know that US Soccer and we only hope Fifa was looking at the NFL Draft and see that we know how to do events and know how to throw a party.
"Look, I don't know how to put on a soccer game, I don't know how to put on a draft.. So, you do what you do, let us do what we do and it's a really good match."
Last year, Nashville hosted an unforgettable NFL Draft.
The three-day event generated $133 million in direct spending and $224 million in economic impact, both a 79 per cent increase on the 2018 Dallas event, was broadcast in 115 countries and drew a total crowd of 600,000.
All aforementioned figures were NFL Draft records.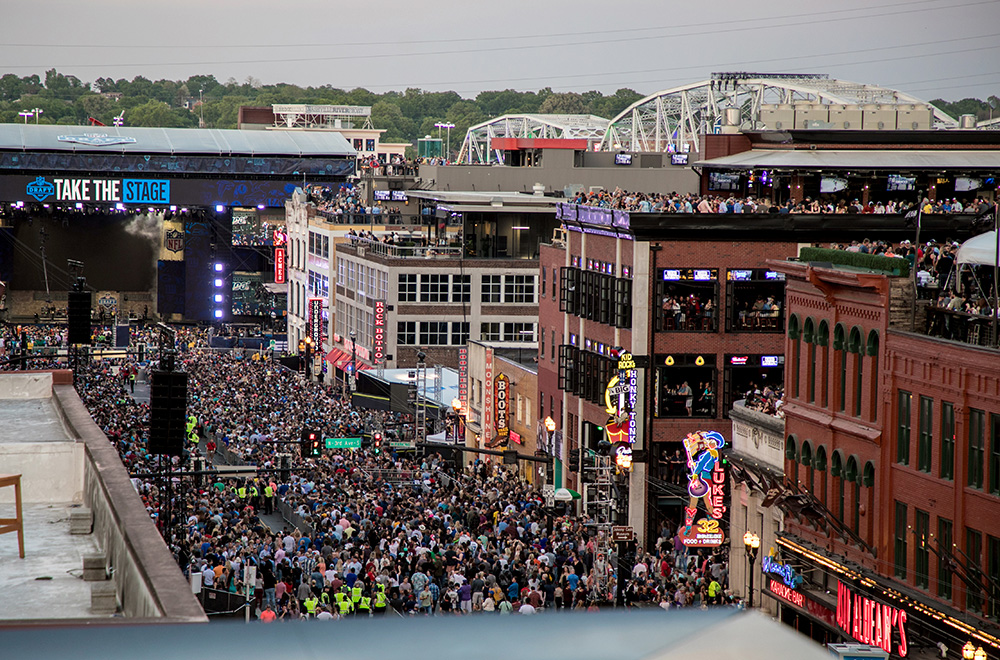 Peter O'Reilly, NFL executive vice-president of club business and league events, referred to the 2019 Draft as having "set the bar for future NFL events."
Reflecting on the success of the event, Spyridon says: "We put a Nashville stamp on it.
"The NFL wanted the Draft to take on the feel of the community it is in. We convinced them to have a house band, so between picks, instead of listening to drivel by a stage host, we had music. At the end of Friday and Saturday night we had headliners: 17 bands, all Nashville acts, all different genres, all legitimate, no cover acts. We made a friend for life in the NFL. We set every record for them."
What is all the more remarkable is that the Draft weekend clashed with the Nashville Marathon.
"I knew what I was up against," Spyridon continues. "We went in with the mindset we don't want to move the Marathon. I told the NFL 'it's a Saturday, it's your slowest day [players further down the list are picked on the final day], you cry for people to come on Saturday and I'm going to give you 30,000 people. They started with, 'wait, we don't share, this is our event'. It took some work…. The NFL got it. The Marathon organisers got it.
"A normal person would not do that to themselves. I went to the police and told them what I wanted to do. They cringed. But they understood the why: we want to show the country and the world what we are capable of doing.
"We can do a 26-mile run with 30,000 runners, and then an NFL Draft televised in well over 100 countries with, we thought, 100,000 to 150,00 people on the streets a day. We got 200,000 a day, so we were wrong there."
The ability to host two such mega events in one weekend, on one day, was possible because of a city-wide collaboration that Spyridon is adamant is unique, certainly in USA, to Nashville.
"This town collaborates better than 90 per cent of the cities in the world."
He continues: "We always look at what couldn't we do, what shouldn't we do. What's the next conversation? This town collaborates better than 90 per cent of the cities in the world."
It's a statement backed by Ian Ayre, the British chief executive of Nashville SC, who worked closely with the city authorities on the team's ascension to MLS.
He says: "As somebody coming from overseas from another league, I've never seen the level of collaboration we've had from what you might observe as competitive sports franchises in the city. They've been the opposite. But I've learned in my time here that that's the Nashville way. It's all about working as one community and working together and helping each other."
That collaboration will be essential if Music City Baseball is to be successful. It is up against the likes of Charlotte, Las Vegas and Portland for MLB expansion (the league has not expanded since 1998).
A stadium on the East Bank of the Cumberland River would be privately funded and the group recently enlisted one of the league's most prominent executives, Dave Dombrowski, who built the Boston Red Sox and Florida Marlins into World Series winners, as a consultant and adviser.
Following his July appointment, Dombrowski said: "Nashville is a city with deep baseball roots, and as we emerge from the uncertainty surrounding Covid-19, I believe baseball, and more specifically Music City Baseball, can play an important role in bringing the city back together."
Moving from the field to the track, US stock car racing series Nascar will make its long-awaited return to Nashville in 2021 with a Cup Series race at the Nashville Superspeedway in Gladeville.
A four-year hosting contract has been penned, with the city having staged Cup Series races from 1958 until 1984.
A PGA Tour event is another on the city's wish list.
"Creativity, authenticity and music are at the heart of the decisions we make and how we implement."
At the heart of the city's sports' decision-making is authenticity.
Spyridon explains: "We are not trying to be something we are not. Creativity, authenticity and music are at the heart of the decisions we make and how we implement. And sport has been critical to us.
"It is an economic strategy based on tourism, backed by music and leveraged with sport."
There's certainly the commercial interest to support such ambitious plans.
A walk over the Cumberland River Pedestrian Bridge that takes you from downtown Nashville into the parking lot of Nissan Stadium, the 70,000-seater home of the Titans, offers a glimpse of the city's corporate clout.
Indeed, the city acts as the North American headquarters for motor giant Nissan and fellow Japanese firm, Bridgestone, and its rival tyre manufacturer, South Korea's Hankook.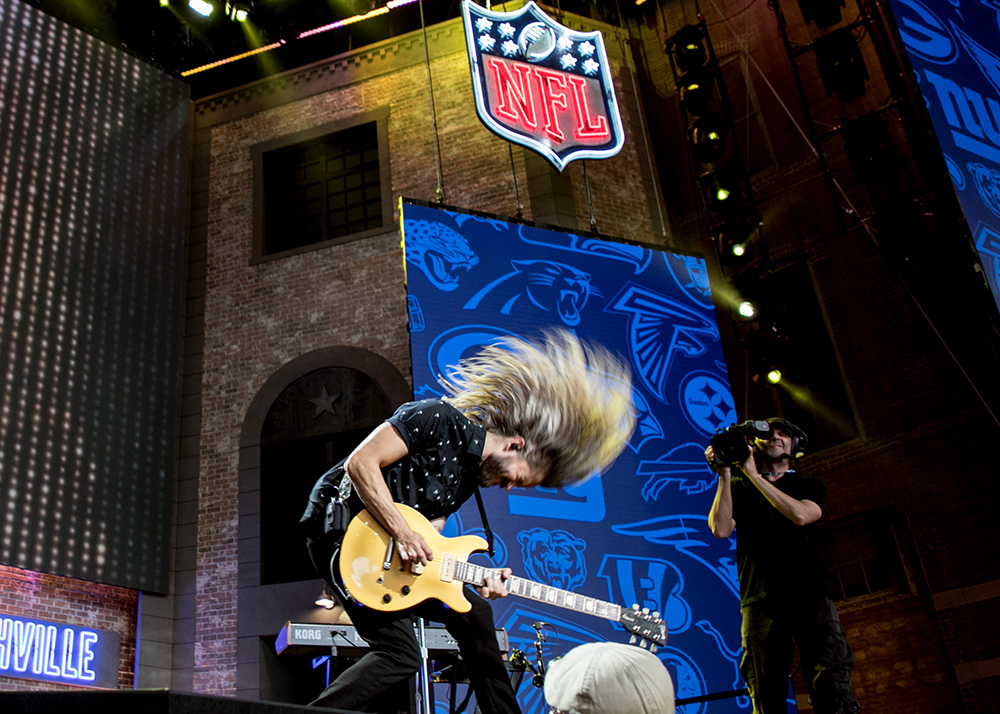 A major site opening for US software giant Oracle is described by officials in Nashville as "a horribly kept secret," while online retail behemoth Amazon is expected to open its doors next year.
Despite the presence of elite sport and blue-chip companies, Spyridon believes the city is not getting the respect it deserves from its peers.
And that, it seems, is a dangerous position to take.
"We have arrived at this place now where the world is looking at us differently, but people are still doubting us, saying 'come back in a few years'," Spyridon says.
"I'd like to think we have proved ourselves, but then I hear that and there's more work to be done. It's probably healthier because I'm motivated by 'tell me we can't do', rather than 'how good are we'.
"When we talked about being a World Cup host, people laughed. The same thing with the NFL Draft. It motivates you. You are going to underestimate us. The underdog."